How many times have we heard, "Come on brah, look out for your people!" Or "Man that nigga charging too much!" We refuse to see value in others because we don't see the value in ourselves and what makes it worse we look to our oppressor for validation. Most times it's not even a conscious decision, we have been conditioned and groomed to hate or undervalue ourselves. We don't fully support black owned businesses, we don't respect our women, and we sabotage anything good we see our people doing. The only way to overcome this mindset, break the cycle! Change the way we think, change the way we learn, and most importantly, change the way we earn. If we don't have to depend on an oppressor for sustenance, he no longer has power over us. The first step in this process, change our perception. Change the way we view ourselves, the way we view our situation, the we can change the way we view others. We must also remember, change starts within you, if you're not willing to change, how can you possibly expect the world to change?

Be the change you want to see in the world!!!
Powered by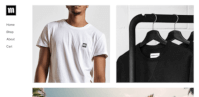 Create your own unique website with customizable templates.